Jobsite Theater
1010 N. W.C. MacInnes Place
Tampa, Florida 33602
813 -229-STAR
jobsitetheater.org
Jobsite Theater is an incorporated professional, nonprofit 501(c)(3) theater company that has been serving the Tampa Bay area since 1998. Most of our productions occur in the Shimberg Playhouse at the David A. Straz, Jr. Center for the Performing Arts, Tampa, where we are the official theater company in residence.
OUR Mission
Part of Jobsite's mission is to inspire our community to not just be consumers, but true citizens. One way of doing that is through working with groups and charities in conjunction with our productions, so that the community has a chance to get involved, while these organizations hopefully not only get some assistance, but needed exposure.
From Artistic Director David Jenkins
We are incredibly excited about 2016 and beyond. Good things are afoot all over, but perhaps the most important thing we're doing this year is our first major effort at establishing an annual campaign. If we're to continue our reach into the schools and our community, if we are to increase the number of shows per year we are able to offer in the Shimberg Playhouse and now the Jaeb Theater, if we are to continue to diversify the work on our stage, if we are to continue to improve that work and the lives of the artists who create it, we simply need more resources. We are committed to keeping tickets at a fair price, and so that means we need to raise the money elsewhere. We hope that this annual campaign can be part of the answer.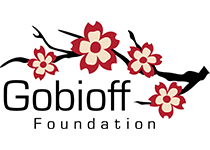 We've set a goal of $60,000 in this first year of the campaign, which has been made infinitely easier to reach through the generosity of the Gobioff Foundation who have agreed to match $1 for $1 all donations up to $30,000. This is an amazing opportunity they have provided to double the impact of your gifts. It gets better: they've not only offered this for 2016, but have made a three-year commitment to help ensure that we are able to develop a strong and sustainable annual base of donors who strengthen our work on stage and in the community. We hope that our 2016 donors will also consider this three-year pledge to help us maximize this opportunity in front of us.
We know that it can be a challenge sometimes to donate in a lump sum, so we hope you'll consider making an annual pledge that is payable in monthly increments, which is easily managed when you donate online. $300 at one time might be hard, but you might find $25 a month donated on the day of your choice to be far more manageable and budget-friendly. Remember that Jobsite is a 501(c)(3) not-for-profit arts organization and all donations made to us are fully tax-deductible to the extent provided by law.
We've grown from very humble beginnings to be an invaluable company in this region
with a growing national reputation, as evidenced by our recognition as a finalist for the prestigious American Theatre Wing National Theatre Company Award. Locally we've been recognized with awards like the Urban Excellence Award and numerous "Best of" awards from BroadwayWorld and Creative Loafing. In just a few years time, we've grown from an annual operating budget of less than $175,000 to now over $250,000. We expect this number to top $350,000 by the end of the 2016–17 season, not only because of this annual campaign, but because of additional programming that we'll be announcing later into the spring. Our audience has grown by almost 7,000 in that same period of time.
The truth is, we want to do a lot more. We're capable of doing a lot more, if the resources were available to us, which is why we need your support of the annual campaign. You'll be hearing a lot more about the campaign from this year's co-chairs, board members Elizabeth Fendrick and Brendan McLaughlin. I just want to let you know how critical these funds are to us and how easy this goal should be to make if you all can rally around us. Getting th
ese commitments from you now, in the earliest part of the campaign, not only ensures your funds with get that $1 for $1 match, but they will allow us to better plan for the 2016–17 season and beyond. Reaching this annual campaign goal this year will directly translate into us having the resources to go after more grants and corporate gifts. It will allow us the resources to produce the best work possible. It will get us that much closer to our goal of offering all artists a living wage. It will allow us to create more opportunities to engage our schools and community partners.
If you've read this far, you already likely attend our shows and spread the word for us. We can't thank you enough for that. We're hoping now though that you will take the next step and and become a part of our annual campaign and – if you're not already – go all in by becoming a season ticket holder. For the ultimate VIP experience, you can also become a Rock Star.
In addition to cash donations we are always on the lookout for in-kind support from area businesses. We currently have season sponsors in Creative Loafing, The Gobioff Foundation, Fodder & Shine, Rollin' Oats, Illumination Advertising, The State of Florida Division of Cultural Affairs, The Arts Council of Hillsborough County and the Hillsborough County Board of County Commissioners.
Can we talk about these opportunities? Please reach out by email or give me a call at 813.476.7378. I look forward to the chance to talk about these very exciting times for us!
All My Best,
David M. Jenkins
Artistic Director
Jobsite Theater
THE STRAZ CENTER
1010 N Macinnes Pl
Tampa, FL 33602
BOX OFFICE
813.229.STAR
Artistic Associates
Jobsite Theater was started as an artist's company comprised of five artists who also served as the company's Board of Directors. It was critical in our formative years to ensure that decisions were being made that served the art and our artists to the end of creating an artistic home, and not just a company dedicated to the production of a commodity.
As the company has grown and developed a strong independent identity, our needs have also grown. Our Board of Directors now focuses on development of the company: financially, and in regard to our audience and community. With this move we have also distinguished the roles of our core artists who are central to our artistic mission in an effort to maintain our commitment to being an artist–run company.
Jobsite Theater's Artistic Associates, under the direction of the Producing Artistic Director, are the stewards of that artistic mission and comprise the decision making body in regard to artistic production. Artistic Associates have been identified within our ensemble and carry the honorary title to note their talents and dedication to the company across all areas of production. Jobsite Artistic Associates comprise the democratic play selection committee that reads, discusses, and chooses the mainstage season, but act as artistic leaders in stewarding our second stage efforts under the umbrella of our Job-side program.
PAST ASSOCIATES
Mike Caban
Chris "Dickie" Corley
Jason Evans
Alan Fessenden
Kari Goetz
Ranney
John Lott
Christen Petitt Hailey
Paul Reller
Ami Sallee
Jobsite Theater is an incorporated professional, nonprofit 501(c)(3) theater company that has been serving the Tampa Bay area since 1998. Most of our productions occur in the Shimberg Playhouse at the David A. Straz, Jr. Center for the Performing Arts, Tampa, where we are the official theater company in residence.